Sorority Recruitment 101
Sorority Recruitment is right around the corner and Bid Day will be here before you know it! With many years of recruitment under our belt, the single most important thing we want all young women going through recruitment to remember is to "Be Yourself. Be True. Be Happy." During an exciting yet trying time in their lives, we encourage each girl to be kind, genuine, and fearless. "Enjoy the experience, no matter the letter" is Katherine Beck's motto, and we are here to remind your loved one to make it her own motto during this Recruitment season!
Rush 2019 begings September 22nd with Bid Day the following Sunday, September 29th! During the week of Recruitment, Katherine Beck offers two types of gifts. "Rush Happies" are delivered during the week of recruitment and consist of non-Greek items. Rush Happies are sent as a "good luck gift" to a loved one during the week to remember this exciting time in their life. "Bid Day Gifts" are delivered on Bid Day and consist of Greek items for the sorority the student pledges. Katherine Beck specializes in personalized Rush Happies and Bid Day Gifts for Ole Miss Recruitment. Each and every gift is entirely custom and no two Bid Day Gifts or Rush Happies are the same. You can't go wrong with a gift from Katherine Beck!
There are so many questions surrounding Rush Happies and Bid Day Gifts, and we hope the information below helps to answer your questions!
"Rush Happies" can be any items from Katherine Beck that are non-greek.  We deliver Rush Happies to the lobby of the dorms each morning of Rush and a Katherine Beck representative will stay in the lobby until rounds begin. This gives the student plenty of time to pick up their Rush Happies before Rush begins that day! The University only allows us to deliver Happies to the lobby of each dorm. Therefore, we cannot deliver happies to individual dorm rooms. Katherine Beck will text each student they have a gift being delivered. 
Other than the $5 delivery fee, the amount spent on each day of happies is completely up to you! Most family and friends place orders based on our suggested "themes" below, along with our suggested price points for each day. For your convenience, we have listed the average amount spent per day below, but we are happy to work within any price range! It is up to you how many days you send gifts, as well as how much you spend on each day.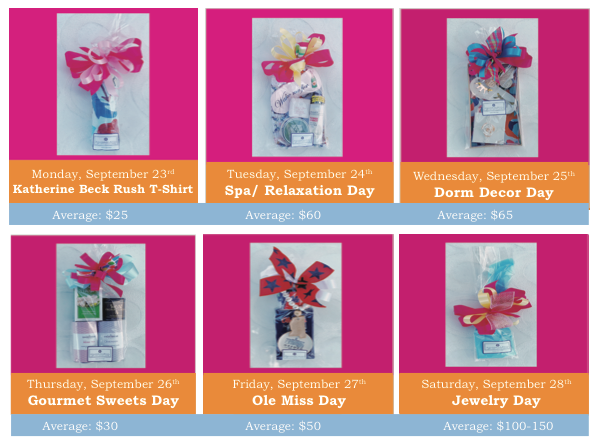 **With Preference round on Saturday, most choose to send a special piece of jewelry for her to wear that night to symbolize the night she chose her forever home!**
KATHERINE BECK BID DAY GIFTS
Katherine Beck specializes in completely custom Bid Day Gifts, filled with most stylish and one-of-a-kind pieces. We spend months searching for beautiful, custom items to have the most unique variety possible on The Square. We are always designing new sorority merchandise based on the popular trends and timeless pieces. 
Due to the large number of girls going through Ole Miss Rush, we are unable to take specific recommendations for Bid Day Gifts. Every Katherine Beck Bid Day Gift is hand-picked, so no two gifts are identical.
Other than the $5 delivery fee, the amount you wish to spend on your Bid Day Gift is completely up to you! On average, most Bid Day Gift orders range $350-$600. However, we are happy to work within any price range, as we also receive orders anywhere from $25 to over $1,000. Once we receive the Bid Lists, we start filling gifts in the order we received your Bid Day Gift order. This means the earlier you place your Bid Day Gift order, the better! 
It is important to note that Katherine Beck does not receive any sorority's Bid List until AFTER the girls receive their bid cards. Because of this, Bid Day Gifts will NOT be at the house when the girls arrive on Bid Day afternoon. It is possible some sororities will send their list earlier or later than others. If a sorority takes longer to send out their list, it may delay that sorority's delivery. We will deliver throughout the night until we are no longer allowed entrance to the sorority houses. We have no control over when each house closes, therefore we cannot guarantee Bid Day Gifts will be delivered on Bid Day. However, we will resume Bid Day Gift deliveries early Monday morning. Due to the high amount of orders we receive, we ask the individual giving the gift to let their loved one know they have a Bid Day Gift waiting on them! 
**Any orders placed after the students receive their bids will be filled and delivered within two business days.** 
FAQ
What if my credit card expires before my Bid Day Gift is delivered?
Your Bid Day Gift will NOT be delivered until your card has been charged. If your credit card changes after you have already placed your order with us, please give us a call or email with the new info to ensure the delivery will not be delayed.
When will my student's Bid Day Gift be delivered?
If your order was placed before Bid Day, the gift will be delivered by the Monday after Bid Day, at the latest. If the order is placed ON or AFTER Bid Day, the gift will be delivered within two business days of the order being placed.
How does my student find out they have a gift being delivered?
For Rush Happies, Katherine Beck will text the student each day they have a delivery. For Bid Day Gifts, we ask that you let your student know they have a gift coming due to the amount of orders we are filling in such a small amount of time.
What if I need to make a change to my Bid Day Gift order?
You will be able to edit your order ONE time without affecting your Bid Day Gift order's place in line. Upon your second edit, your order will be moved back in line to the day in which your last edit was made. If you are wishing to add to the gift after your initial order edit, you will be allowed to do so without affecting your place in line. To ensure that your order is delivered without any delays, please contact Katherine Beck if the payment information you provided on your initial order has changed. This will NOT count as your one time edit.
What if my student has more than one Rush Happy per day and/or Bid Day Gift coming for Katherine Beck?
Every Bid Day Gift & Rush Happy is custom made, so we try our best not to send duplicate items.
When will I be charged for my gifts?
You will be charged for Rush Happies soon after you place an order. We fill Rush Happy orders as soon as they are placed. Bid Day Gifts will not be charged until after the gift has been put together on Bid Day, September 29th.
What if my student cannot find her Bid Day Gift?
There are so many gifts delivered to each house for Bid Day, so some gifts could get lost in the shuffle. Make sure your student double checks for her gift. We require each sorority to sign for delivered gifts from Katherine Beck. Once the gift is delivered to the sorority house, we are no longer liable for the gift, we are unable to go back into the sorority house to locate gifts.  Most of the time, students are not able to locate gifts due to the large amount of gifts in the sorority house.
What if my student needs to exchange an item in a Rush Happy and/or Bid Day Gift?
If she receives any items that she would like to exchange, she is more than welcome to do so from October 14th - October 28th. Non-Greek items can be exchanged for non-Greek items and Greek items, but Greek items can be exchanged for Greek items ONLY.
If a particular item is out of stock, we will be more than happy to take her information and let her know IF that item becomes available again. There is NO guarantee that any particular out of stock items will be reordered by the store.
If she chooses to receive a store credit for any of the items she returned, her store credit will be valid through the end of the semester, December 16, 2019.
What if my student does not receive or choose to not accept a bid?
If she does not receive a bid, we ask that you contact us immediately, and we will give you the option to send a "happy" gift form our selection of non-Greek items or cancel your Bid Day Gift order (nothing will be charged).  
If she receives a bid but decides to not accept that bid, please contact us immediately so we can cancel your order. Unless you notify Katherine Beck, we have no way of knowing that a bid was not accepted. If a bid is not accepted, and we do NOT receive notice from you before the order is filled, you may receive a store credit in the amount of the gift.